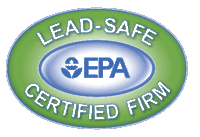 The Dangers of Lead
Lead poisoning is a concern for both children and adults, especially during Pregnancy. It can cause:
Permanent problems with health, learning, and behavior in young children
High blood pressure, kidney damage, and fertility problems in adults
You can be exposed to lead any time you breathe lead dust, fumes, or swallow anything that contains lead. About 75% of homes built before 1978 contain some lead-based paint. The older the home the more likely it is to contain lead-based paint. You should assume that any home built before 1978 contains some lead.
Why should I have my home inspected or assessed for risks?
Your child has been diagnosed as having lead poisoning. The most common home-based source of lead exposure is deteriorating lead-based paint and the resulting dust.
You live in a home built before 1978 where small children are or will be living.
You are about to remodel or do anything that will disturb lead-based paint or generate lead-based paint dust and chips that can harm you and your family.
You are renting or buying a home. When buying a home, federal law allows the purchaser the opportunity to conduct testing to determine whether lead-based paint or lead-based paint hazards are present. This is especially important if you have (or plan to have) young children in the home.
You are concerned about possible lead exposure to you, your family and pets, or visitors.
What is the difference between an inspection and risk assessment?
An inspection is a surface-by-surface investigation to determine whether there is lead-based paint in a home or child-occupied facility, and where it is located. Only certified inspectors or risk assessors can legally perform inspections. Lead-based paint inspections determine the presence of lead-based paint. It is particularly helpful in determining whether lead-based paint is present prior to purchasing, renting, or renovating a home, and identifying potential sources of lead exposure at any time.
A risk assessment is an on-site investigation to determine the presence, type, severity, and location of lead-based paint hazards (including lead hazards in paint, dust, and soil) and provides suggested ways to control them.
Only certified risk assessors can legally perform risk assessments. Lead-based paint risk assessments are particularly helpful in determining sources of current exposure and in designing possible solutions.
You can also have a combined inspection and risk assessment. With any of these options, the risk assessor or inspector will provide you with a written report of findings.
ABCZ Consulting Corporation offers services of certified inspector and certified risk assessor, with many years of work with Large Management companies through 5 Boroughs of NYC we guarantee satisfaction and removal of violations.
What do you suspect may need testing for lead?
Chipped or peeling paint inside the home
Chipped or peeling paint outdoors
Lead pipes
Lead pipe solder
Dirt in the yard
Building materials to be affected by remodeling
Other
ABCZ Consulting Corporation offers the following services for the testing and inspection of Lead Paint
EPA Certified Lead Testing
Lead Paint Inspection
Lead Paint Survey
Lead Paint Risk Assessment
XRF Lead Paint Inspection
Dust Wipe Testing For Lead
.
We serve: Brooklyn Bronx Manhattan Staten Island Queens
Call (917) 803-9156
We are NYC LEAD PAINT EPA Certified